See this advert news in Singapore
It's a fact.
Your HDB will be worth $0 when the lease run out.
No matter if you pay $300,000 or $1 million for your HDB… it will be worth nothing when the 99-year lease is over.
HDB is a hot topic nowadays as Singaporeans suddenly woke up to the reality that they cannot use their HDB to make a fortune … like their parents did.
Yes, your parents may buy HDB low at $70k to $100k back in the 1970s… and sell it today at $400,000 to $500,000, making 4-5 times return.
But today, you cannot buy a HDB at $500,000, and expect to sell 4 times at $2 million! Impossible.
As your HDB lease become shorter, it will be worth less. (Sorry to say, you may even need to sell your HDB at a loss!)
So if you can't use your HDB to make a fortune, how else can you profit from properties in Singapore?
How about Condos?
The Singapore government is already clamping down on private properties investment, introducing new cooling measures to tax people who won 2nd properties.
All these cooling measures made investment in private properties really unattractive, and with rising interest rates, you may even lose money when you invest now.
No HDB, No Condos… So How?
While many Singaporeans have given up hope on building up their wealth with properties because of various restrictions, Property Expert, Jerome Tan think otherwise.
Interviewed by Mediacorp Radio Money FM 89.3, Jerome shared that even with harsh cooling measures, there are still many little known, hidden property opportunities that ordinary Singaporeans can take advantage of, only if they know how.
Not long ago, he also shared his investment insights in his interview on a TV show, how he profit from properties, sometimes with little to no money down.
Currently, Jerome owns more than 100 properties all over the world, including Singapore, Malaysia, The Philippines, Australia, and many more.
Calvin comments:
As those HDB Flats in Toa Payoh, Tiong Bahru, Redhill, Ang Mo Kio, Bedok & others built in the 60s and 70s cross the 50th Year Old Mark in Singapore --- the Banks are reluctant to lend monies. And as lease drops to 30 years even CPF monies not allowed to purchase these less than 30 year lease flats. And when the HDB lease expires all the Owners will get zero return when Singapore Govt will take back the lands (when lease falls to zero)
This will be a BIG WAKE UP CALL.
For unfortunate Singaporeans they could buy up Landed Freehold Houses in Johor over Rm1 millions. But for those S'pore PR holding Malaysian ID Cards they can buy Landed Houses just like any other Johoreans.
AND AS A RESULT ALL LANDED FREEHOLD HOUSES (PRICED FROM RM300K to RM500K) WILL BE IN HOT HOT DEMAND
The secret is to buy LANDED HOUSES In JOHOR NOW WHILE PRICES ARE STILL SO CHEAP
WARM REGARDS
Calvin Tan Research
PLUS IF YOU MISSED THIS
Another BIG REASON WHY JOHOR HOUSES ARE GOOD VALUE BUY IS DUE TO THE LONG YEARS OF DOWN TURN BEFORE PRICES ACTUALLY REBOUNDED
See the Chart below. After the Asian Financial crisis of 1997/8 all Kl, Penang, Selangor & other houses rebounded in Prices Johor House Price continued to languish for 12 long years till year 2009 before joining the upcycle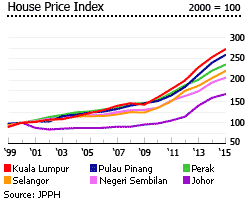 See
Johor house price index upturn only started in year 2009/10 while others shot up by year 2,000
As Johor is 9 year late in the cycle so Johor still has room to move up - especially for Landed Houses in good location