17th November, 2019, 6:57 PM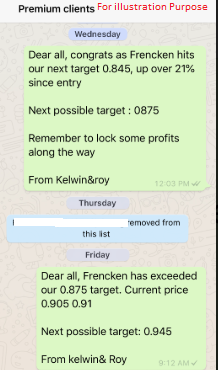 Chart Source: Poemsview 17th Nov 2019
Frencken has been a star performer so far and we're glad we managed to alert our client about this electronic related stock before it started its move at $0.695. We've been tracking the movement of Frencken closely and blogged regularly about it so that our readers could be updated too.
As for now, Frencken has gone up 35% since our entry and even our latest $0.945 target has been hit. We feel that it is on the high side now and shot up rather fiercely for the past week so we wouldn't want to be chasing it now. Our next possible target could be around 98 cents but we prefer for Frencken to pullback first before considering another entry. It is usually impossible to take profit right at the top and will not be aiming for that.
We are waiting for Frencken to pull back to the 5ema before taking another look at it.
Want to be informed of the latest development of Frencken?
Wait no more! CONTACT US NOW to see how you can be part of this group to receive value added service sent straight to your handphone.
Yours
Humbly
Kelwin&Roy
The post Frencken – [ Up Over 35% Since Entry, Should We Still Chase It? ] appeared first on Singaporehumblestock.