Revenue and EBITDA were marginally above our estimates. ARPU from cable TV business was more resilient than expected.
Broadband disappointed with a steep drop in ARPU.
Cable TV subscribers contracted for the fifth consecutive quarter.
The strategic review announced by the company on 15 April 2019 has virtually removed all valuation discounts of APTT against its Taiwanese peers. Since the review, the share price had appreciated 38%. APTT's peers are trading at a dividend yield of c.4.4% and a EV/EBITDA multiple of 11x. Our target price of S$0.16 is an aggressive 10% discount to these peers. We are downgrading APTT to REDUCE.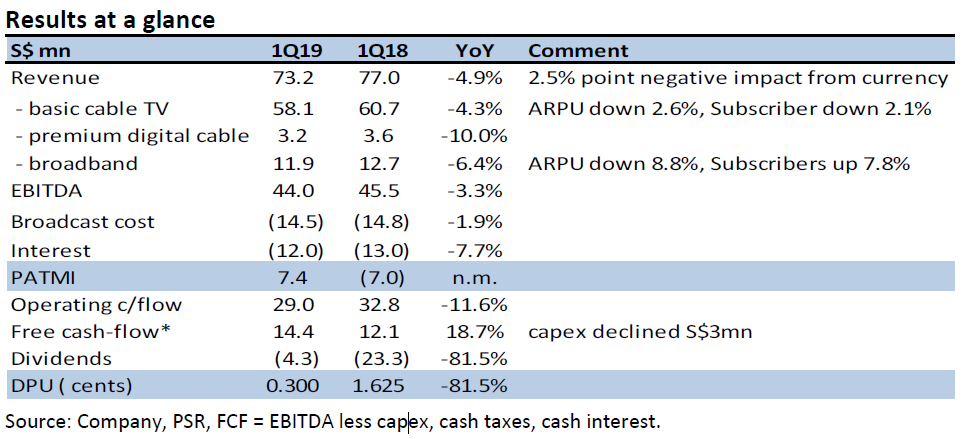 The Positives
+ Cable TV ARPU contracted only NT$1 QoQ to NT$493/month. Cable TV ARPU has been sliding for almost three years. This quarter, it only contracted NT$1 QoQ. A possible reason could be the reduced competition in Taipei. Aggressive headline prices in that region previously compelled APTT to provide more discounts. Such activity has subsided.
The Negatives
– Cable TV subscribers still shrinking. The decline in cable TV subscribers that began in 1Q18 has continued into this quarter, with no signs of this abating anytime soon. The strategy is to push more broadband services to existing cable subscribers. Approximately 30% of cable TV subscribers have APTT broadband services. The downside is the need to lower prices aggressively to penetrate broadband.
– Capex still elevated. Capex was lower this quarter by S$3mn on a YoY basis. However, as a percentage of revenue, capex stands at 20%. This is elevated compared to some Taiwan
telecommunication peers where capex to revenue is only 13%. Management guided that capex this year will be lower than that in 2018. Our FY19e capex is 22% of revenue. The capex covers the deployment of fibre deeper into the network.
-. Broadband was meant to be the growth engine. However, revenue in 1Q19 form this segment dropped to S$11.9mn, the lowest since listing. Subscribers expanded by 7.8% YoY to 220k, but ARPU dropped by 8.8% to NT$404. Competition is intense from unlimited mobile data plans, as well as from a popular product called the Android box, whicih can be used to view OTT content via the internet. These so-called BandOTT boxes help drive the usage of higher data speed from current 50MBps to 300-500MBps. Around 64,000 of such boxes have been deployed, more than double the 31,000 boxes a year ago.
Source: Phillip Capital Research - 16 May 2019