The Positives
+ WALE by GRI extended from 1.8 to 4.7 years due to extension of master leases. 99.3% of shareholders voted in favour of accepting the master leases on Chongxian Port, Beigang Stage 1 and Fuheng warehouse at the EGM held on 22 April 2019.
+ Proposed yield-accretive acquisition of ROFR asset with 5+5 year master leases. On a pro-forma basis, the 6.4% acquisition yield on Fuzhou e-commerce will lift NPI and DPU by 16.4% and 1.6% respectively. However, the acquisition will push gearing from 31.3% to 41.1%, which is slightly above the 40% gearing targeted by management. The asset is located beside ECW's e-commerce asset, Fu Heng warehouse, and will be leased out to 2 master lessees on a 5+5 year term, with built-in rental escalation of 2.25% p.a. Acquisition is expected to be completed in 3Q19. Assuming full funding by debt, we expect FY19e/FY20e DPU to increase by 0.6%./6.17%.
The Negatives
– 100% of debt maturing in July 2019; refinanced debt maturity profile will be lumpy. The Management shared that they are in the final stages of concluding the refinancing of all loans. It is likely a maturity of 3 years. Refinancing this batch of loans will once again lead to a lumpy debt maturity profile.
Outlook
Extended WALE of 4.7 years and committed portfolio occupancy of 99.97% provides much income visibility. This is important in the context of the current global geopolitical tensions and economic uncertainty. Key risk is the depreciation of the RMB, which is partially mitigated by the rolling 6-month hedging strategy implemented on 75% of the distributable income.
Maintain Buy with higher TP of S$0.87 (prev. S$0.85)
We raise our target price to S$0.87 to incorporate the proposed yield-accretive acquisition of the Fuzhou E-Commerce asset. EC World trades at an attractive yield of 8% and a P/NAV of 0.93x.
The report is produced by Phillip Securities Research under the 'SGX StockFacts Research Programme' (administered by SGX) and has received monetary compensation for the production of the report from the entity mentioned in the report.
Details of proposed acquisition of Fuzhou E-Commerce
Figure 1: Details of asset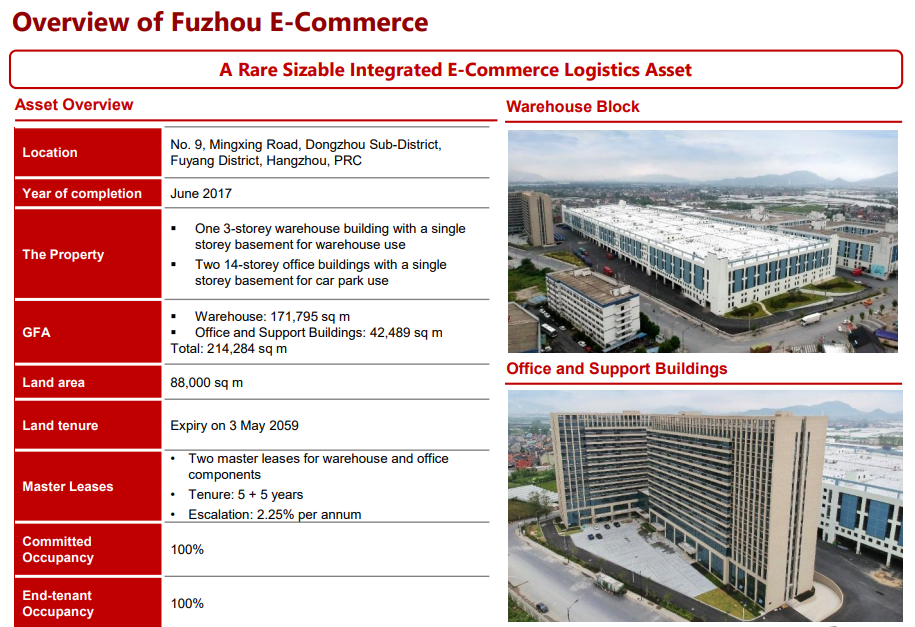 Source: Company
Figure 2: Together with Fu Heng warehouse, the adjacent sites form the largest e-commerce fulfilment warehouse in Hangzhou.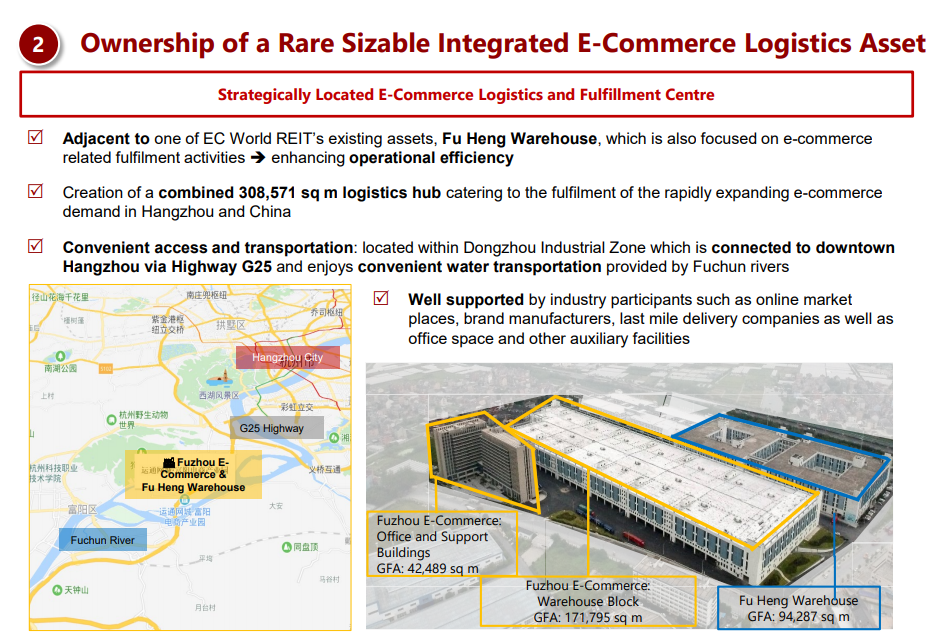 Source: Company
Figure 3: Acquisition increases proportion of revenue sourced from e-commerce sector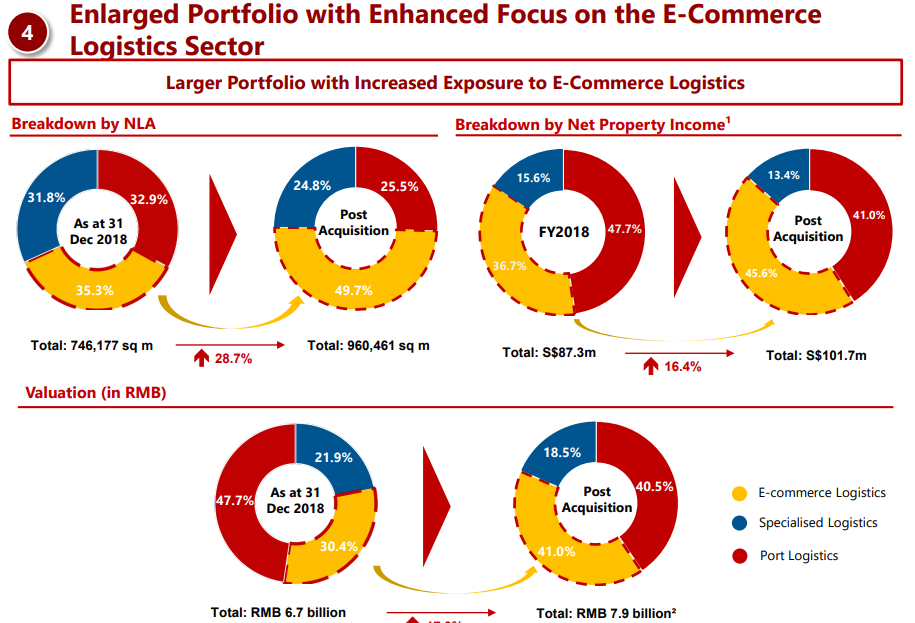 Source: Company
Source: Phillip Capital Research - 14 May 2019